Create the Love You Deserve with The Mindful Dating Academy
---
Imagine having a loving, supportive partner who shares your values and dreams. Imagine a relationship that is full of joy, passion, and intimacy. Imagine a home that is filled with love and laughter. Imagine a life that is longer, healthier, and more fulfilling.This is the power of lasting, fulfilling relationships.And it's something that you can achieve. The Mindful Dating Academy is specifically designed to be the best and fastest way to get there.Are you ready to break free from the cycle of pain and disappointment in your love life?We are here to help.At The Mindful Dating Academy, we're passionate about helping you find the love you deserve and create a fulfilling, lasting partnership.
Did you know that people with happy, loving, healthy relationships live longer?
Love doesn't just make you feel good, it lowers stress, reduces depression, lowers blood pressure, and increases life expectancy. Research shows that strong relationship ties lead to a happier, healthier, and longer life.With our program, you'll learn how to date mindfully, happily, and lovingly, and discover a shorter path to achieving your dream relationship. Our powerful techniques will help you let go of past emotional baggage, build self-worth and confidence, and attract your ideal partner effortlessly.
---
There is a "missing piece" preventing you from having the high-quality relationship you want.
Imagine waking up every morning with a smile on your face, knowing that you're in a fulfilling, loving relationship with someone who makes your heart sing. Our program will help you experience more love, joy, and positive emotions than ever before, and become the envy of your friends with your happy, healthy relationship.Don't let years of stagnation hold you back from finding true love. Join The Mindful Dating Academy and discover the tools to create lasting change and peace, no matter what life throws your way. It's time to take action and start your journey towards a happier, healthier, and more fulfilling life with the partner you've always dreamed of. Sign up today and start living the life you deserve.
---
Imagine if you could...
- Attract your ideal partner easily and effortlessly, without the frustration and disappointment of traditional dating methods.- Let go of old emotions, wounds, and limiting beliefs that have been holding you back from finding love and happiness.- Create a strong sense of self-worth, empowerment, and confidence, so you can approach relationships from a place of strength and authenticity.- Experience more love, joy, and positive emotions than ever before, as you connect deeply with a partner who truly deserves you.- Become the envy of your friends with your happy, healthy relationship, and inspire others to find the same kind of love and fulfillment in their lives.- Enjoy amazing food, drinks, and experiences with a partner who loves to spoil you and make you feel special.- Have a partner who is committed to providing for and taking care of your family and loved ones, creating a strong sense of security and stability in your life.- Gain powerful tools and techniques for creating lasting change in your life, allowing you to break free from old patterns and create a new, positive future.- Discover a sense of peace, tranquility, and calm, no matter what challenges life may throw your way, through the practice of mindfulness and self-awareness.
---
Ready to transform your love life and experience all these amazing benefits? Join The Mindful Dating Academy today and start your journey towards a happier, healthier, and more fulfilling life with the partner you deserve.
About Zachariah Bourne
Zachariah is a passionate Personal Development and Dating Coach who has been helping thousands of people live their ideal life for seven years. He teaches that through self-improvement and inner growth, people can attract their perfect match. Zachariah has been featured in Huffington Post, Success Magazine, and Addicted2Success.com, and is the author of the upcoming book "Love By Design."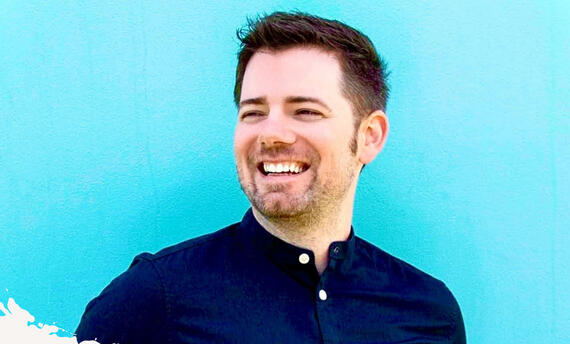 What you get in this program:
1. Two Online Fun-Filled Interactive Workshops Per Month with Q&A session via Zoom (with recordings).2. Access to the Skill of Confidence online mini-course.3. Learn the Love Capacity Expansion Exercise. (Game changing for letting in the quality of partner in your life.)4. Learn The Emotional Elevator Technique. (The most powerful technique for improving relationship quality.)5. Be a part of the exclusive Mindful Dating Community on Facebook where you can meet like-minded people on the same journey as you.6. Receive the Relationship Creation Checklist.7. Group chat to help you as you progress and answer questions as they come up.For $333 per month.**Special Membership Launch Price. $1 for the first month and $99 per month after that!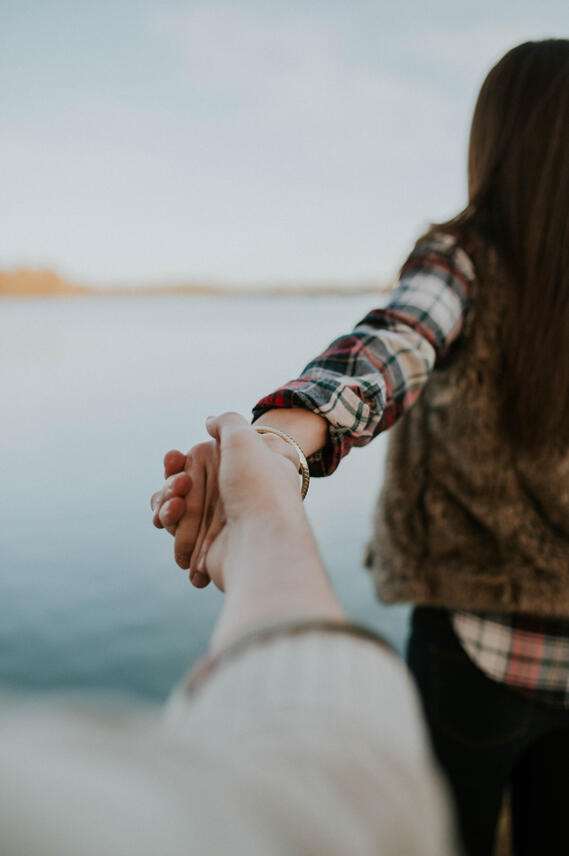 ---
Unicorn Approved Guarantee - Try The Program Risk Free
If you wouldn't slap a baby unicorn to stay in the program, within 30 days you can get a full refund no questions asked.Reasons you can refund the program:1. Someone misspelled your name on your coffee at Starbucks.
2.The subway doors closed in your face today.
3. Your USB stick didn't go in the first time you tried.
4. My voice is too sexy.
5. ANY REASON YOU WANT!
---
This is for you if...
- You are a woman who is into spirituality and personal development and is looking for the best relationship of your life.- You want to change your life and make your dreams come true.- You are ready to invest your time and energy into your personal development journey and put in the work to create incredible positive experiences.- You want to have an amazing love life and positively impact those around you.
---
Client Testimonials
"I absolutely loved working with Zachariah Bourne. He taught me all the tools I needed to gain confidence in myself and to truly love myself. He truly cares about helping others and wants to help everyone in the world to discover their true happiness. I would not be where I am today without his help. I am happily married and loving my new life! I am so very thankful I had the opportunity to work with him."Jackie
Rochester, NY"The tools you gave me have helped me so much. My goal was to travel and see the world, so far I have covered 12 countries and have 4 more planned. I'm also in a relationship [for three years now] that continues to grow all the time. Thank you for all that you do, your work changed my life."Tiesha
New Mexico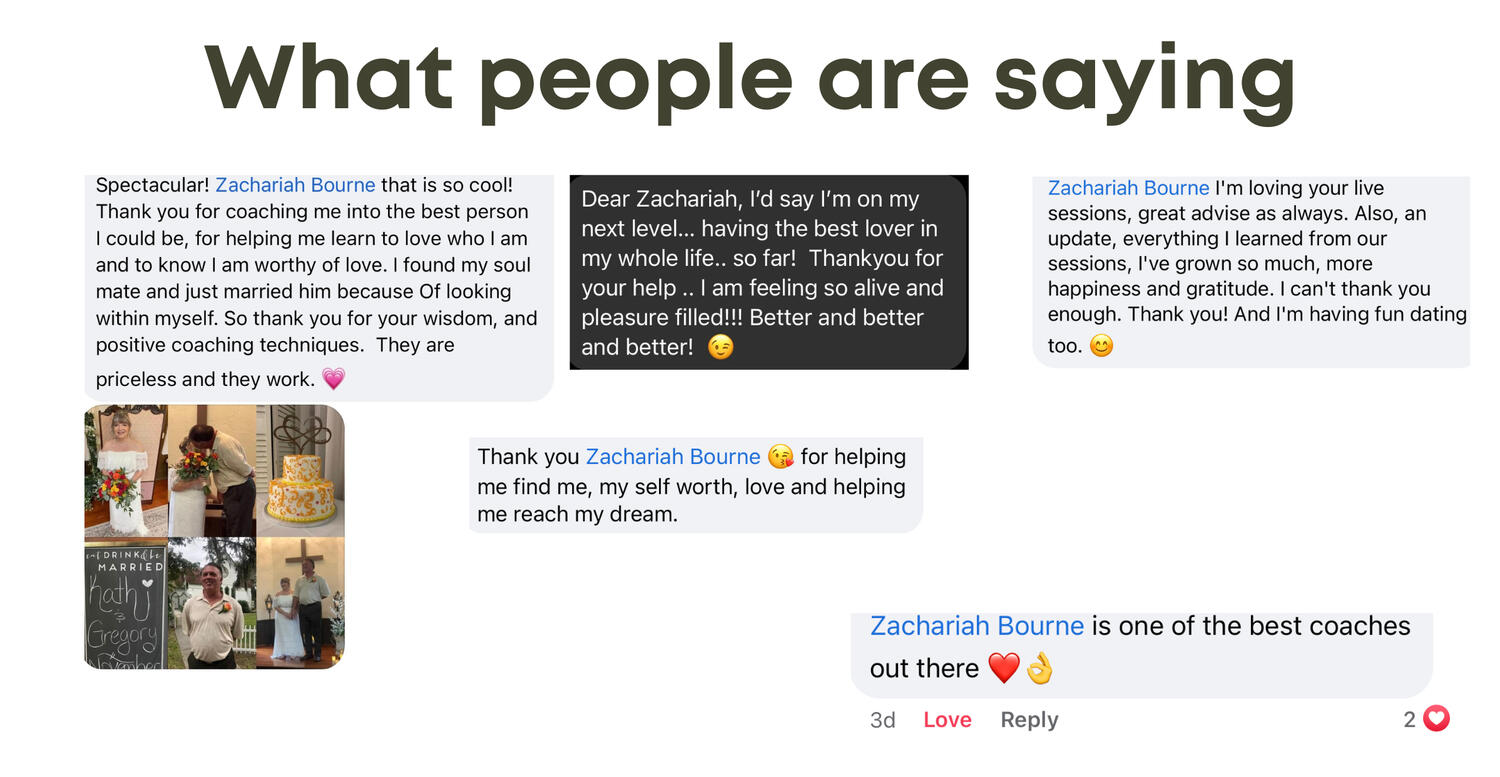 Upgrade to VIP:
Add One on One Coaching
---
Are you ready to meet the love of your life and create a deep, meaningful connection that will last a lifetime? The Mindful Dating Academy is here to help, with our powerful program that is designed to help you attract your ideal partner and build a strong, healthy relationship.But if you want to take your dating journey to the next level and fast-track your success, we have a special VIP package that's perfect for you. This exclusive offer includes everything in the basic plan, plus:- One 60-minute one-on-one coaching session per month with our expert dating coach, Zachariah Bourne. Zachariah will work with you to identify your unique challenges and create a customized plan to help you achieve your goals.- A monthly custom plan to help you get from where you are to where you want to be. Whether you're looking to build confidence, improve communication skills, or break old patterns, Zachariah will provide personalized guidance and support to help you succeed.- Direct text access to Zachariah between sessions, so you can get guidance and support whenever you need it. Whether you have a quick question or need advice on a challenging situation, Zachariah will be there to help you every step of the way.Spaces for this VIP package are limited, so don't wait to sign up. Upgrade to the Mindful Dating Academy VIP tier today and start your journey towards the love and happiness you deserve.